Tactacam has been an industry leader in hunting action cameras for filming your own hunt. But now they are changing the game for cellular trail cameras. Tactacam has recently launched its Tactacam Reveal Cellular Camera at a budget-friendly price point.
What Is So Special About The Reveal Cell Cam?

Most cell cams are complicated to set up and require you to go buy a SIM Card, get on your computer, activate it, and set up an account. If you are not very tech-savvy this is not easy. The Tactacm Cellular Camera can be up and running in a matter of 5 minutes. The most spectacular feature of the Reveal Camera is that it won't cost you an arm and a leg. Other companies are charging several hundred dollars per camera. Read on for the price of the Reveal.
How Do I Set Up My Reveal Camera?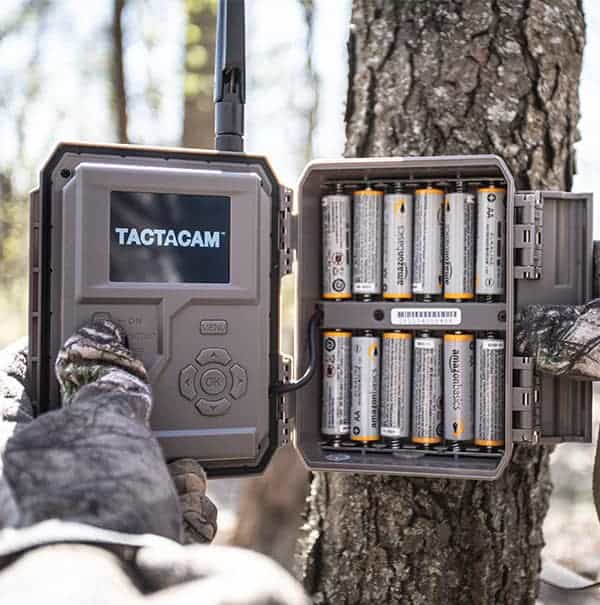 The steps to setting up your Reveal Camera are simple:
Load 12 AA Batteries and a class 10 U3 SD Card (Amazon).
Download the Tactacam Reveal App on your phone
Scan the QR code on camera screen
What About Paying For The Cellular Coverage?
Setting up your payment is all done through the app as soon as you download it. There's no activating a SIM card, calling a phone company, or logging into a computer.
How Expensive Are The Plans?
There are currently 3 different plans you can choose from to get your pictures sent directly to the app.
Pro Plan– $13/month for unlimited pictures
Intermediate Plan– $8/month for 500 monthly pictures
Starter Plan– $5/month for 250 monthly pictures
You also have the option to pay for a yearly subscription and save an average of 14% per year compared to paying monthly.
All of these are a small price to pay to keep from spooking deer every time you go check a trail camera.
Which Cellular Company Does The Tactacam Reveal Work With?
The Reveal currently comes in two different models. One has Verizon cell service and the other has AT&T cellular service. As long as you have cell service at your hunting location, you will get service with the cameras.
Do I Need To Have Cellular Service With Verizon or AT&T to have a Tactacam Reveal?
No, You do not. These cell cameras operate independently from your mobile phone service. Your current cell phone provider does not matter with these cameras.
Where Can I Buy The Tactacam Reveal Cellular Cam?
I found that purchasing through Amazon was the easiest and cheapest way to get mine. Cabelas and many others also have them with free shipping. At the time of this writing, these cameras are a hot commodity so you'll want to check several places. Most sites offer free shipping and are cheaper than the tactacam website by $10-$20.
->See my growing list of websites that stock the Tactacam Reveal Camera
If you are new to the cellular trail camera game, you might as well just buy 5 of them now. I have become addicted to them. I don't use any non-cellular cameras anymore.
->See a complete list of online stores that carry Tactacam Reveal Cameras
Many of your local pro shops will carry the Tactacam Reveal Cameras if they are an authorized dealer.  You will pay around $119 for them depending on location. Online prices are $99-$109 for the most part.
What Features Do The Tactacam Reveal Cameras Have?
Here is a list of the Reveal Camera Features:
• LTE / 4G Wireless Module
• 24MP / 12MP / 8MP Photos
• 2.4" LCD Screen
• Sub 1/2s Trigger Speeds
• Adjustable Night Illumination at 96+ft
• Detect animals at 96+ft
• Image on Demand
• Requires 12 AA Batteries (lithium recommended)
• IP66 Waterproof Certified
• One Year Warranty
• External Port for Solar Panel
What Cellular Features Do The Reveal Cameras Have?
Here is a List of the Reveal Camera Cellular Features:
• Operates on AT&T & Verizon Nationwide 4G LTE Network
• Scheduled or immediate image uploads
• Uploads thumbnail images
• Create and manage pictures in folders
• Month-to-Month Data plans
• No Contracts/Activation fees
• Activate cameras only when you need them
• Easy to use mobile app
• Requires Class 10 SD card between 2GB – 32GB